---
Israel puts Damascus airport out of service, another war to fear?
---
On Friday June 10, Israel carried out heavy airstrikes on Damascus airport. It has since been out of service. A major escalation between the two enemy countries which raises fears of the outbreak of a major conflict between the Jewish state, Syria, Iran and the Lebanese Hezbollah, reports Le Courrier international.
A new worrying threshold has been crossed in the distance confrontation between Israel and Iran, particularly on Syrian soil. This Friday, June 10, before dawn, air raids by the Israeli army have indeed disabled the landing strips of Damascus airport. And if it had already been the target of Tsahal, it is the first time that the flights must be suspended there, underline the Arab media. Satellite images posted on Twitter show three separate areas of damage on each of the airport's two runways, one military and one civilian.
Read also : Syria: Russia on two fronts now, in addition to Ukraine, the Americans are starting over in Syria, that's why they are diverting weapons through Ukraine to supply them to terrorist mercenaries there.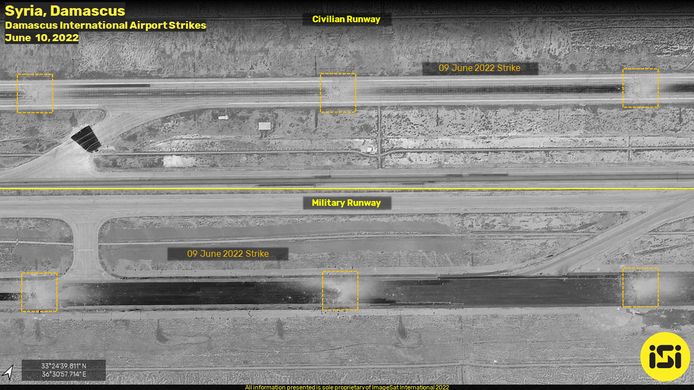 Severely damaged tracks
Saturday, Zouheir Khouzeim, Syrian Minister of Transport, confirmed that the airstrips of the airport were "seriously" damaged by these bombings which caused the cessation of air traffic until further notice. "Rehabilitation works have started (…) and the track will be put back into service in the coming days," he said, quoted by the Al-Watan newspaper, close to the regime. The technical teams are working around the clock to make the airport operational again "as soon as possible".
Iran and Hezbollah targeted
According to the Syrian Observatory for Human Rights (OSDH), which reported an unknown number of wounded, Israeli missiles targeted depots belonging to Lebanese Hezbollah and Iranian forces near the airport. According to the Israeli daily Ha'Aretz, these strikes were aimed at "preventing the smuggling of arms" from Iran "to Lebanon, via Syria", on board "commercial flights". A way for Iran to escape the Israeli strikes.
Risk of "regional war"
According to Al-Araby Al-Jadid, this escalation "could open the door to reprisals, followed by more Israeli attacks, which could lead to the outbreak of a regional war", fears the London-based pan-Arab media.
Israel warns its citizens
Sign of extreme tensions between Israel and Iran, Israeli foreign minister Yair Lapid on Monday called on Israeli nationals in Turkey to leave the country "as soon as possible" for fear of Iranian attacks: "Following a series of attempted Iranian terrorist attacks in recent weeks against Israelis vacationing in Istanbul, we call on Israelis not to fly to Istanbul and (…) if you are already in Istanbul , return to Israel as soon as possible," the foreign minister said.
Read also : France: E. Macron international arms trafficker and faithful to his "at the same time" but "Macron is in Ukraine to preserve peace" with 18 Caesar guns, almost a quarter of the stock of the French army, delivered to the 'Ukraine.
Syria and its allies condemn
Syrian Foreign Minister Faisal Al-Mokdad received a call from his Iranian counterpart Hossein Amir-Abdollahian. Both men condemned the attack. Syria will "defend itself by all legitimate means" against Israeli attacks," Mokdad said. "The continued Israeli shelling of Syrian territory is an absolutely unacceptable violation of international standards," the Russian Foreign Ministry said. Moscow strongly condemns "Israel's provocative attack on essential civilian infrastructure" which put "innocent lives at risk".
Similar items